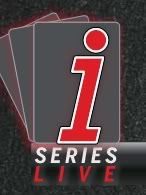 Many of the critics said it would never work but last night's inaugural ISeriesLive.com event can only be described as a mega success story!
Bet on a live market while watching the live stream which shows ALL the hole cards and chip stacks of the players as the game progresses? Crazy as it seems this is exactly what happened and I thoroughly enjoyed it for many many reasons.
Not being biased or anything but I am Irish and the event was being streamed live from Dublin city so that was a big plus for me. Also the fact that it was Paddy Power bookmakers that provided the betting market was a bonus as I find them to be a very efficient and trustworthy site.
Now Easter holiday weekend is usually hectic in Dublin anyway but it is also the weekend when it becomes the center of the poker Universe with many of the World's top players jetting into the city for the Irish Poker Open. The event is the oldest European poker tournament and is held in the illustrious Burlington Hotel every year. The ISeriesLive event was a warm-up game for some of the pro's and if last night is anything to go by we are in for a great weekend.
If this was a Hollywood movie then it would have been an all-star cast! Daniel Negreanu, Phil Hellmuth, Maria Ho, Eoghan O'Dea, Dave 'Devilfish' Ulliott to name but a few. The action kicked-off at 6pm local time and straight away Carlos Mortensen took a big hit so I put a few euro on him to be first eliminated. That was a mistake as the guy really impressed with the way he managed his stack. It was Phil 'Pokerbrat' Hellmuth that was first to be sent to the rail. Known for his blow-ups I watched his body language as he left the table and for a fleeting moment I thought I could see a ticking time bomb about to explode but again I was wrong. Phil showed great sportsmanship by wishing the table good luck and joining the commentators in the booth to add his insight into the night's proceedings. Daniel 'kidpoker' Negreanu also was an early casualty and he too joined in the chat in the booth.
Back to the markets and I was starting to have fun betting if there would be a Pocket Pair or 'Ace in the Hole' dealt to anyone in the next hand. One of the features I really liked on the ISeriesLive.com website was that you could click on an instant hand history button and up popped a new tab with the full breakdown of each hand played. It was so easy to keep track of your bets as Paddy Power have a 'Your Bets' slip on their page, impossible to lose track.
At the break I watched the pre-recorded player interviews and was amused by Hellmuth's statement that he would love to win on the continent of Ireland. I know it's a great country Phil but no need for the promotion. Our government struggles to manage a tiny island so I'd shudder to think how they would handle a whole continent! It was the interview with James Dempsey that really got my attention where he stated that he was comfortable with the structure and had success with it in the past. I took a look at his chip stack and then it became clear to me that this guy could win this. I quickly got my Euros on him and winner winner chicken dinner he went and took it down! After over 8 hours of play he defeated the wily Dave 'devilfish' Ulliott to become the inaugural ISeriesLive.com champ and ship the winner takes all €100,000 prize! Well played James!
Now there's only one burning question....... when is the next one?
Raiser