World Blogging Champion 2012
Special Announcement! - The presentation to the Temple Street Children's Hospital will be made on the weekend of the UKIPT Dublin event on May 17th - 21st.
8/3/12
Still trying to get my head around this as I write here. Earlier today I loaded up a couple of micro cash tables and settled into what I thought was going to be an hours grind. About 10 minutes into it my twitter and skype notifications starting going a little crazy and I was directed to this tweet from the official PokerStars twitter account.
Needless to say I nearly fell off the chair. Always the sceptic I still was an unbeliever and shot off an email to PokerStars support asking them if I really had won. Shortly after I got word back that indeed I had become the World Blogger Champion for 2012!
I am over the moon and still it's hard to believe. So many of you have sent me emails and tweets with your good wishes and when things settle down a little I get get back to each one personally. I will honour my commitment to donate half the prize to the Temple Street Children's Hospital in Dublin, Ireland. It might take a week or two to get everything processed but when it all comes together I will post a photo of the presentation of the cheque and the trophy here!
What else can I say, thank you, thank you, thank you!
Raiser

And so the time is near, and I face my final curtain.......... Well, I can't say I went down in a blaze of glory but I had an enjoyable main event none the less. I thought this promotion was a wonderful idea from the beginning and well done to all the guys & gals who took part.
In the end I shipped 4 SCOOP tickets! 3 x $5.50 and 1 $16.50 so I have something to show for my week. I've uploaded a few of my hands to the pokerschoolonline hand replayer. You can view them by clicking the link below.
Also, if you want to check out where anyone finished in the WBCOOP leaderboard you can do so
HERE
Till next time!
Raiser
________________________________________________________________
WBCOOP - Event 30 Round Up
3/3/12
This was my final chance to win a decent SCOOP ticket so I prepared with due diligence and drank lots and lots of Guinness before the game began. It worked! All the hard work and pre-game elbow lifting paid off as I finished 27th out of 298 starters to claim a $16.50 ticket!
The game was a regular NLHE game with a starting stack of 3000 chips and 15 minute levels. I like this structure as it allows you to sit back a little, play a solid game with a tight enough range. I didn't feel the need to get too involved with marginal hands in the early stages.
The Main Event is on tomorrow so I better get preparing and re-stock the fridge!
______________________________________________________________
WBCOOP - Event 28 Round Up
3/3/12
This was my 9th game in the WBCOOP and a most enjoyable one. it was a H.O.R.S.E. game and my only experience of it in the past was playing some play money games with some of the gang from 'The Drunk Tank', a cool home game where some members of pokerschoolonline.com hang out.
I shipped another $5.50 SCOOP ticket, my third of the campaign and out of 215 starters in the event i finished in 72nd spot. I've my final game tonight before the big one, the WBCOOP main event tomorrow.
________________________________________________________________
WBCOOP - Event 25 Round Up

2/3/12
If ye all don't mind I'd rather not talk about this one!
Back tomorrow for two more games!

Edit 3/3/12
Ok, frame of mind is a bit better today. Truth is in this game I spewed chips away and went on tilt-fest! Only myself to blame!


_________________________________________________________________
WBCOOP - Event 23 Round Up
1/3/12
Happy days, I managed to get into the prizes on this one to win a $5.50 SCOOP ticket! I'd like to be able to say that it was down to fine play and great decisions but alas, that would not be the truth.
The structure for this one was a NLHE 'big ante' and with a name like that I thought there would be plenty of action in the early stages. With 3000 starting chips and a 15 minute clock between levels though it was clear from the get-go that there was no need to rush this one.
The game itself was fairly regular and mundane if not on the slightly dull side. I'd like to give a shout-out to pokerschoolonline.com member Stakehorse75 who was at one of my tables for a while, nice to see a friendly face, eh, avatar at the table.
In the end I finished 90th out of 311 starters, nothing spectacular but a ticket is a ticket and every little bit helps. Back for more tomorrow.
WBCOOP - Event 21 Round Up
29/2/12
BUSTO! In 153rd spot, I struggled with this one too. This was a NLHE Turbo Shootout and I wanna give a shout-out to Nubatz from Germany who knocked me out. I gave ya a good run for your money kiddo! Oh wait, this was a freeroll..... still I had ya worried, Eh, ok guess you weren't even remotely worried but enjoyable game all the same.
Tomorrows game is a NLHE regular structure with big antes' so hopefully I'll get a good run there and scoop another ticket!
_______________________________________________________________________
WBCOOP - Event 17 Round Up
28/2/12
Without hesitation this will be the shortest round-up of the campaign so far, no sad sob bad beat story, the guy just played me off the field!
Structure was a NLHE heads-up knock-out tourney, back for more tomorrow!
PS: I hope to add a link tomorrow to where you guys can vote for my blog and I'd really appreaciate your support.
______________________________________________________________
WBCOOP - Event 13 Round Up
27/2/12
Part of me is just speechless! I don't do beat beat stories but............ Oh well, never mind! If you want to see my bust out hand check out the Pokerschoolonline Replayer below, it's hand #3.
My fourth event in the WBCOOP is over, I just got knocked out in 193rd spot and I'm a little gutted to say the least. The format was 4-max NLHE and I'd be quite happy playing at a short-handed table. When the table popped up I was delighted to see Pokerstars Pro WizzardofAhhs sitting there. It would have been even nicer if he had played a hand cause he sat-out the whole time. I guess he couldn't make it to his PC!
Hopefully I'll get another chance to get seated at the same table as one of these guys before the WBCOOP is over. It's a rare opportunity for a micro-stakes player like me to play against a Pokerstars Pro. That's the beauty of promotions like the WBCOOP
The first level was not so good for me as I was getting annihilated hand after hand. I managed to keep the composure and won two big pots to get me up the 43rd overall and I was just beginning to think that I might be able to get into the prizes on this one before disaster struck!
That's poker folks! I'll be back for more tomorrow.
____________________________________________________________________
WBCOOP - Event 9 Round Up
25/2/12 -
My third venture in the WBCOOP didn't last too long, I busted out in Level 2. The game was PLO Hi/Low and it's still going on as I write this blog post. There was a little glimmer of hope though when I saw that two Pokerstars Pro's (Talonchick & WizzardofAhhs) were having a though time of it also, so I guess coolers happen to even the best!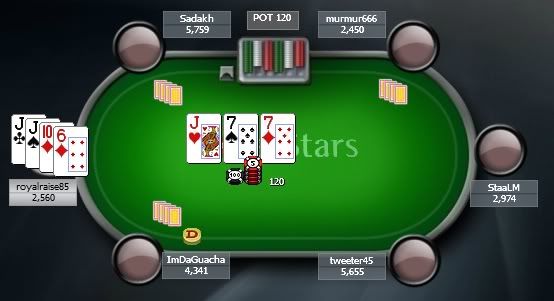 Could I Possibly Lose?
In my bust out hand I flopped a boat and you'd think I was in good shape. Check out hand #2 in the pokerschoolonline replayer below to see what happened. Some of my fellow PSO'ers are still in and doing quite well so I'll give a big shout out to Grade b, Effsea, Chuckkky & Gmanwicksy.
3 down & 7 to go........
Update 26/2/12
- Just woke up and checked the results. Some of the PSO'ers done very well with 3 of us scooping SCOOP tickets!
Gmanwicksy - 17th - $22 SCOOP ticket
Grade b - 26th $16.50 SCOOP ticket
Effsea - 86th $5.50 SCOOP ticket
Well done guys!
WBCOOP - Event 4 Round Up
24/2/12 -
Played in my second event of the WBCOOP today, event #4 on the schedule. This was a mixed game combining NLHE & PLO and it was FUN! I really enjoyed it. As I'm a micro -staker I usually only play for real-money on No Limit Holdem Games. I have some Pot Limit Omaha experience though from playing some mixed games with some US friends from Pokerschoolonline.com in their home games. So all in all I felt pretty comfortable with the structure.
I got it in good with some good hands and won a few pots, enough to get me well up on the leader-board for a while. Then I made a total mess of a PLO hand when I shoved trip aces into a boat even though I knew the guy had me beat. I mean, I was watching him for half an hour and knew that he didn't bet aggressive without holding a really strong hand. I looked at the board and said to myself, 'the only way he could beat me here is if he is holding a pair of 3's or 6's. Did I listen to myself? Well, you can see for yourself cause I included that hand in the pokerschoolonline replayer, click on the link below to view. It's hand number 3.
The good news is though I managed to survive and make the prizes. I finished 53rd out of 298 starters to win an $11 ticket to the SCOOP, so I'm pretty happy!
_____________________
WBCOOP - Event 1 Round Up
23/2/12 -
Just finished playing the first of my ten games. The opener was an average run, maybe a little dry on action. It was a regular NLHE multi-table and we started off with 10,000 chips or 200 big blinds deep with a 15 minute clock.
After 150 mins of play I busted out when my pocket 7's didn't hold against Q 10, he spiked a Q on the river to send me to the rail. I noticed this guy played super loose/aggressive and, as the antes were well kicked in and I was short stacked, I had no hesitation getting the chips in the middle.
You can view 5 of the hands I either won or lost here in this Pokerschoolonline replayer.
19/2/12 -
And so the Pokerstars.com WBCOOP promotion 2012 is upon us and I humbly submit my blog to this great competition.
I've been playing online poker for a little over a year now and I've met some great peeps along the way. Mostly due to the fact that I stumbled across Pokerschoolonline.com which is the official Pokerstars poker school. It has some excellent training videos and tools not to mention a great forum where you can ask questions and chat about the game in a nice, relaxed and friendly way.
If I was to win the WBCOOP prize I would spend 25% on a UKIPT buy-in, it's always been an ambition of mine to play in that tourney! Another 25% would go to my family for putting up with me since I caught this poker bug!
However, I've realised that there are much more important things going on in this World that just makes me stop and think for a while. You see, I've four beautiful daughters and one of them has trouble with her eyesight. It's no big deal cause she gets by and does very well in school etc.
Occasionally though I have to take her to a children's hospital in Dublin, Ireland for her eye check-ups etc. and it's on these visits that I realise that some family's have to endure a lot and rely on this hospital for the care and comfort of their sick children.
That is why without a shadow of a doubt I'd gladly donate the other 50% of the prize to the Temple Street Children's Hospital in Dublin. If you want to have a look at my video for more info please click on the link below after your done reading this.


So thats' my entry to the WBCOOP 2012! I'd like to take this opportunity to thank the staff of Temple Street Children's Hospital Dublin and also thanks to Pokerstars for another excellent promotion!
Good luck to all who are taking part & Happy Blogging!
Raiser