Every month my poker coach (19honu62) sets me a challenge of playing out 100 sit n' go's on Pokerstars.
The idea is to start of with a balance of 25 buy-ins at a chosen level and the target is to double that starting balance by the end of the challenge.
This month I'm going to play out 2 of these challenges. One at the $0.25c level and the other at the $1 level.
Starting Balances and targets are as follows;
$0.25c Level
Starting Balance - $6.25
Target - $12.50
$1 Level
Starting Balance - $25
Target - $50
Raiser
Here's my progress so far.
Greens are cashes:
I nose-dived this month and didn't give it the dedication and commitment needed to make it a success.... I'll be concentrating on the WBCOOP for the rest of the month so I'm putting February down as a failed challenge. I'll be back for more in March!
| | | | | | | |
| --- | --- | --- | --- | --- | --- | --- |
| | | | | | | |
| | | | | | | |
| #3 | 1/2/12 | 509896783 | 12/45 | 0.25 | 0.00 | 6.79 |
| #4 | 1/2/12 | 509910325 | 26/45 | 0.25 | 0.00 | 6.54 |
| #5 | 1/2/12 | 509894969 | 13/45 | 0.25 | 0.00 | 6.29 |
| #6 | 1/2/12 | 509892909 | 19/45 | 0.25 | 0.00 | 6.04 |
| #7 | 1/2/12 | 509898410 | 32/45 | 0.25 | 0.00 | 5.79 |
| #8 | 1/2/12 | 509893753 | 38/45 | 0.25 | 0.00 | 5.54 |
| #9 | 1/2/12 | 509891690 | 40/45 | 0.25 | 0.00 | 5.29 |
| #10 | 1/2/12 | 509892358 | 39/45 | 0.25 | 0.00 | 5.04 |
| #11 | 1/2/12 | 510084999 | 13/45 | 0.25 | 0.00 | 4.79 |
| #12 | 1/2/12 | 510089622 | 15/45 | 0.25 | 0.00 | 4.54 |
| #13 | 1/2/12 | 510069371 | 11/45 | 0.25 | 0.00 | 4.29 |
| #14 | 1/2/12 | 510086649 | 45/45 | 0.25 | 0.00 | 4.04 |
| | | | | | | |
| #16 | 1/2/12 | 510179740 | 25/45 | 0.25 | 0.00 | 5.76 |
| #17 | 1/2/12 | 510177488 | 18/45 | 0.25 | 0.00 | 5.51 |
| #18 | 1/2/12 | 510181344 | 26/45 | 0.25 | 0.00 | 5.26 |
| #19 | 1/2/12 | 510175870 | 26/45 | 0.25 | 0.00 | 5.01 |
| #20 | 1/2/12 | 510178657 | 45/45 | 0.25 | 0.00 | 4.76 |
| | | | | | | |
| #22 | 3/2/12 | 510551729 | 8/45 | 0.25 | 0.00 | 5.19 |
| #23 | 3/2/12 | 510555246 | 11/45 | 0.25 | 0.00 | 4.94 |
| #24 | 3/2/12 | 510542992 | 24/45 | 0.25 | 0.00 | 4.69 |
| #25 | 3/2/12 | 510542118 | 32/45 | 0.25 | 0.00 | 4.44 |
| #26 | 3/2/12 | 510950696 | 11/45 | 0.25 | 0.00 | 4.19 |
| | | | | | | |
| #28 | 3/2/12 | 510936035 | 18/45 | 0.25 | 0.00 | 4.31 |
| #29 | 3/2/12 | 511005165 | 20/45 | 0.25 | 0.00 | 4.06 |
| #30 | 3/2/12 | 511007433 | 28/45 | 0.25 | 0.00 | 3.81 |
| #31 | 3/2/12 | 511004424 | 35/45 | 0.25 | 0.00 | 3.56 |
| #32 | 3/2/12 | 511006615 | 44/45 | 0.25 | 0.00 | 3.31 |
| #33 | 4/2/12 | 511088761 | 18/45 | 0.25 | 0.00 | 3.06 |
| #34 | 4/2/12 | 511087738 | 20/45 | 0.25 | 0.00 | 2.81 |
| | | | | | | |
| #36 | 7/2/12 | 513182387 | 19/45 | 0.25 | 0.00 | 3.24 |
| #37 | 7/2/12 | 513183894 | 9/45 | 0.25 | 0.00 | 2.99 |
| #38 | 10/2/12 | 514326797 | 8/45 | 0.25 | 0.00 | 2.74 |
| #39 | 10/2/12 | 514324790 | 9/45 | 0.25 | 0.00 | 2.49 |
| #40 | 10/2/12 | 514323925 | 12/45 | 0.25 | 0.00 | 2.24 |
| #41 | 10/2/12 | 514325742 | 14/45 | 0.25 | 0.00 | 1.99 |
| #42 | 10/2/12 | 514829211 | 38/45 | 0.25 | 0.00 | 1.74 |
| #43 | 10/2/12 | 514808866 | 24/45 | 0.25 | 0.00 | 1.49 |
| #44 | 11/2/12 | 514887976 | 19/45 | 0.25 | 0.00 | 1.24 |
| | | | | | | |
| | | | | | | |
| #47 | 15/2/12 | 517073488 | 19/45 | 0.25 | 0.00 | 4.34 |
| #48 | 15/2/12 | 517071921 | 13/45 | 0.25 | 0.00 | 4.09 |
| #49 | 15/2/12 | 517072580 | 22/45 | 0.25 | 0.00 | 3.84 |
| #50 | 15/2/12 | 517299681 | 26/45 | 0.25 | 0.00 | 3.59 |
| #51 | 15/2/12 | 517297986 | 25/45 | 0.25 | 0.00 | 3.34 |
| #52 | 15/2/12 | 517293624 | 21/45 | 0.25 | 0.00 | 3.09 |
| #53 | 15/2/12 | 517298825 | 38/45 | 0.25 | 0.00 | 2.84 |
| | | | | | | |
| | | | | | | |
| #56 | 18/2/12 | 519054324 | 11/45 | 0.25 | 0.00 | 2.81 |
| #57 | 18/2/12 | 519057255 | 23/45 | 0.25 | 0.00 | 2.56 |
| #58 | 18/2/18 | 519057766 | 40/45 | 0.25 | 0.00 | 2.31 |
| #59 | 18/2/12 | 519019806 | 15/45 | 0.25 | 0.00 | 2.06 |
| | | | | | | |
| #61 | 21/2/12 | 520300773 | 20/45 | 0.25 | 0.00 | 2.85 |
| | | | | | | |
| #63 | 27/2/12 | 523901001 | 25/45 | 0.25 | 0.00 | 2.97 |
| #64 | 27/2/12 | 523904658 | 25/45 | 0.25 | 0.00 | 2.72 |
| #65 | 27/2/12 | 523901669 | 21/45 | 0.25 | 0.00 | 2.47 |
| #66 | 27/2/12 | 523903124 | 27/45 | 0.25 | 0.00 | 2.22 |
| #67 | 27/2/12 | 523902316 | 33/45 | 0.25 | 0.00 | 1.97 |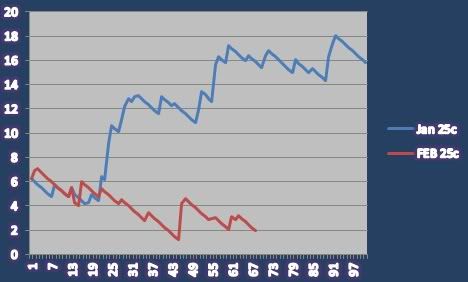 Click to Enlarge